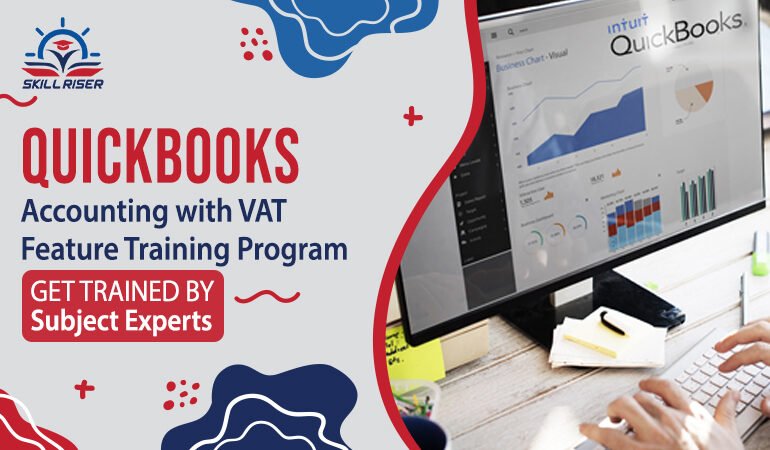 QuickBooks Accounting With VAT UAE Training
Course Description
Course Overview
Overview of QUICKBOOKS Accounting With VAT UAE Training Course
Every day, more companies choose to use automated accounting software to capture, store, analyze, and process financial and accounting data in order to improve consistency and performance. QuickBooks is a fantastic accounting program that can meet all of the accounting requirements.
Before we get into the features of QuickBooks, let's go through some of the features and benefits that a VAT-enabled accounting software can bring to a business.
Curriculum
The following are some of the benefits of using VAT-enabled accounting software:
A VAT-enabled accounting software provides a 360-degree solution for automated financial accounting, as well as the most cutting-edge features to help the company succeed.
Very user-friendly and fast solutions, resulting in significant time savings.
Each piece of software comes with extensive training to help you get the most out of it.
A one-time VAT return study
Because of the VAT layout, managing the stock is infinitely easier and simpler.
VAT accounting software features
VAT reports are produced in a systematic and automated manner.
Software is created without using any code, ensuring that there are no bugs.
Since every data and transaction is stored and updated across all platforms, the company and financial data is more structured and streamlined. It removes the need for handwritten notes and makes transaction monitoring much simpler.
Using accounting software that includes VAT features helps the company to produce statements for its expenses, incomes, profits, general ledger, and other financial transactions, and categorize them for tax purposes. During tax season, this well-organized approach saves both time and money.
Company Information
Getting started
Introduction to QuickBooks
Create, modify, open, delete company
QuickBooks administrator and users
Managing Accounts
Account types in QuickBooks
Adding and deleting accounts
Accounting reports
Registers of QuickBooks
Transaction/ General Journals
General journals entries
Accounting reports
Introduction to Lists
Types of items
Price level lists and QuickBooks items
Other names list and others
Vendor Center
Introduction to vendor center
New vendors
Purchase and order
Enter bills and vendors
Outstanding payment
Receiving inventory in QuickBooks
Inventory adjustments
Assembling productions
Customer Care
Introduction to customer center
New customers in QuickBooks
Sales order overview
Working with invoices
Sales receipts from customers
Statement charges and customers
Statement overview
Finance charges for customers
Customer payments in QuickBooks
Credit memos or sales returns
Time ticket for customers
Banking Transactions
Customer deposits
Transferring funds
Account reconciliation in QuickBooks
Employee
Introduction to employee center
New employee and payroll options
Features of QuickBooks
Planning and budgeting
Backup and restore, export and import
Remainders and alert managers
Memorized transaction in QuickBooks