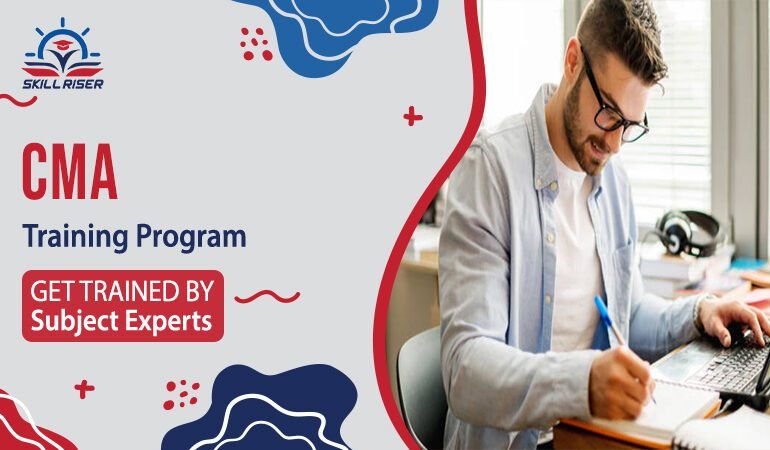 Course Description
Course Overview
Overview Of CMA Training in Dubai
Businesses today are coping with the intense competition led by the global economy. Companies across the world are demanding excellence in financial management and complex accounting skills that can help them take strategic financial decisions. Market-disrupting technologies are creating a need for talent that is premeditated and skilled. So, Certified Management Accountant (CMA) is playing an imperative role in handling complex financial challenges and helping businesses achieve more strategically.
Why is the CMA course important?
Going by the latest trends from popular online recruitment websites, CMAs are in high demand. According to a report, around the world, the demand for CMAs rose over 45% in March 2020. Once achieved, CMA is one of the most reputed designations that accounting and finance people enjoy. The job profile of CMAs is nothing less than a lucrative challenge. CMAs are specialized in advanced technologies, costing strategies, business management, allocation, and management of funds.
Why you should get certified in CMA?
CMAs or Certified Management Accountants are highly sought after by finance, accounting, and other business firms of all scales in Dubai. The CMA certification is an excellent addition to anyone who is working in finance or accountant niches. Moreover, CMAs make 64% more than their non-certified peers. On average a CMA makes over 2,50,000 AED annually. Accounting professionals must leverage the potential of CMA.
CMA Course Outcomes & Professional Benefits
Following are the results that you can expect by joining CMA Course:
Widens career scope: With a professional designation such as CMA before your name, you can unlock a plethora of opportunities for yourself and make your career versatile.
Professional Advancement:By obtaining a CMA certification you can boost your professional outlook as being a CMA solidifies your status of being a versatile and experienced accountant.
Develops critical skill sets:The CMA certification will help you develop critical skill sets in accounting and finance.
International acclaim:The CMA certification is one of the few certifications that transcend borders. CMA is the global benchmark for management accountants and finance professionals.
Increases credibility:The qualification speaks for the credibility of the individual and candidates with CMA enjoy the freedom to work at the location of their choice.
Prerequisites
Should have a Bachelor's degree from any stream except arts.
A student who is in the final year of the Bachelor's program may also pursue but requires 2 years of relevant experience along with a degree to obtain certification.
CMA Career Path & Opportunities
Going for the CMA certification is a great career move and will help you stand out from the rest of the accountants. You can do both- corporate and public accounting, across different positions like planners, analysts, managers & auditors. The CMA certification helps you get a better entry-level position in various companies and opens doors for promotion.
Some of the job roles that you can get after the completion of CMA are:
Finance Manager
Financial Controller
Cost Accountant
Cost Manager
Financial Analyst
Management Accountant
 INDUSTRIES LOOKING FOR CERTIFIED MANAGEMENT ACCOUNTANTS:
Manufacturing
Finance&Insurance
Real estate
Mining
Oil & Gas
Utility services
Transportation
Construction
COMPANIES LOOKING FOR CMA PROFESSIONALS
PwC
Earnest & Young
Confidential company
Al Nasr construction company
CMA Training Option
Training Options
Features
Classroom Training

Instructor-led Classes
Case Study Presentation
Lecture-Based Presentation
Video and Audio Inserts
Simulated Exams and Exam Practice
CMA Course in Dubai
Understand various financial data
Analyze effective financial strategies
Evaluate various investments
Get certified as a CMA Professional
BOOK YOUR FREE DEMO SESSION and Contact us
Curriculum
COURSE OUTLINE (CMA COURSE)::
Cost management
Corporate finance
Decision analysis
Financial statement analysis
Internal control
Cost Auditing
Corporate laws and Corporate Accounting
Auditing & Taxation
Operations Management and Finance
Cash Flow Statements
To enroll in our CMA Training in Dubai Call us at +971 50 654 5837.